Last weekend we attended the Blue Ridge ADV Ride, part of the AMA National Series. Needles to say we had a ball. The group was Myself, Mike, and our New York Crew, Adam, and Russ. Mike and I rode the KTMS from South Carolina while Adam and Russ trucked down their DR650s from NY. The area we were in was a little town called Pineola, part of Newland I think and near Linville Falls on the Blue Ridge Parkway.
Us at the starting area, no bells and whistles here. Just $50 and here's the route sheet, have a good ride.
Off Road guys know you can't start the day without a good breakfast. You just have to clear the table from the night before first.
First day was 90% dirt with a combination of gravel roads, 2 track, and a bit of woods road. This ride was best ridden on a 650 or larger bike. There were more than a few guys on 250 KTMS that to me would not be a challenge. You need at least a thousand CC's and 500lbs under you when flying through marbled, gravely, hairpin turns to get the juices flowing.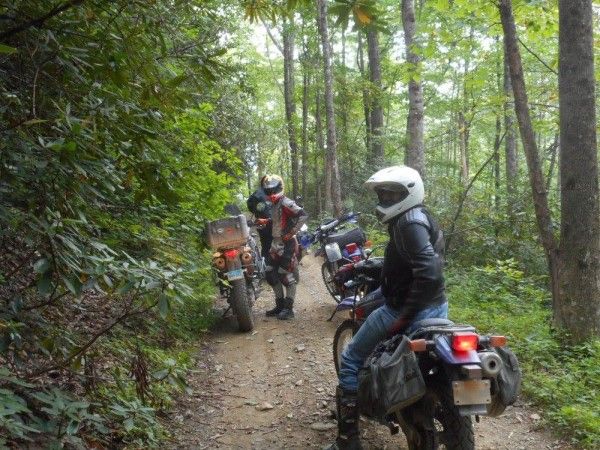 Saturday had it's share of Adventure. After a 20 mile section of gravely, hilly, hairpins, with 3,000 feet of elevation changes, Russ decides to dump it when we stop to reset the route sheet. We have a new way of doing things on these trips, it's called, "Take a Picture Before You Help The Guy Up"
That event set in motion a chain of problems with Russ' bike. After being flooded and loosing the battery the tow strap came out for a 4th gear jump start at 30MPH on the next road section. Having just smacked his knee up pretty good he wasn't to keen on the idea but Adam talked him into it, "Just get on the farkin bike, will ya"
Kids, kids, kids. Mike got by me on a woods road down hill after I picked a crappy line. I thought I would have the last laugh after seeing where his new line brought him. But, then it came to me. I gotta help get the bike out of this mud hole now, everyone gets dirty here. Mike now knows the 990 doesn't float quite as well as his KTM 250. ADV Rule #1, A dry line is the right line.
In for the evening day one in the books. We rented another great house off VRBO. All the amenities you could ask for including a garage for about $70.00 per guy a night. This is the way to go since I don't do camping and roughing it for me is when there is no Lobby Bar at the hotel.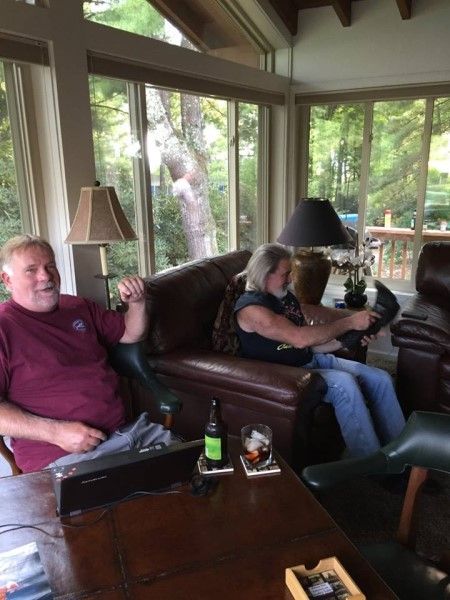 Day 2 we had a choice of a 50/50 mix or a long street with a great 10 mile dirt section to some great look outlooks. We went with the look out route and were glad we did. We made it to Roan Mountain and 6200 feet. Some lookout picas from that ride.
The organizer warned everyone that lunch stops on Sunday were going to be hard to find because just about everything here closes. We found this General Store at the base of Roan Mountain that was truly Andy Griffith with all kinds of folks just hanging around inside chewing the fat. It was PB&J on Hamburger Rolls we made up here.
None of our trips would be complete without a picture of Adam taking a nap.
All in all it was a great ride. We got lost a couple of times but the route sheet was pretty good. I would definitely go back, the Blue Ridge Mountains area of North Carolina has the best, by far, of a combination of superb roads and ADV riding thrown in, this side of the Rockies.