This was our first trip to this Southern Jersey D/S ADV Event that sells out every year. 5 of us went this year and rented a house about 15 miles from the start. Renting a house has now become the norm for us when we go to events, we just haven't found one yet with a fridge big enough for, "Our Gear"
It is a 3 day event because of Veterans Day on Friday and you have the choice of doing the Big Bike Route or the Regular Route with some Hero Sections as options. We chose the Regular Route on Friday and did the Hero Sections. A little tough on big bikes and after much wound licking and beers Friday Night we decided to switch to the Big Bike Courses for Saturday and Sunday, a smart move for our crew. The event is a GPS only format with no route sheets. We had 2 GPS Units and had little problem navigating the course. Lunches on all 3 days were superb and the Saturday Night Dinner a blast. This had to be one of the best organized events I have been to and these Jersey Guys put on one heck of time. Kudos Gentlemen, we will definitely be back next year.
The house we rented had a detached garage for the bikes. Tim and I rode our KTMS down while Russ, Adam, and Carl trailered their DRZS from Vermont and Long Island.
One of these trips we are not going to have to break out the tow strap. Russ' DRZ was not the only bike that needed a tow strap bump start. My KTM 1190R did not like the cold weather at all and also had to be bump started once.
KTM 1190R Cold Start Procedure. You just need a running bike and a beach umbrella to trap the heat.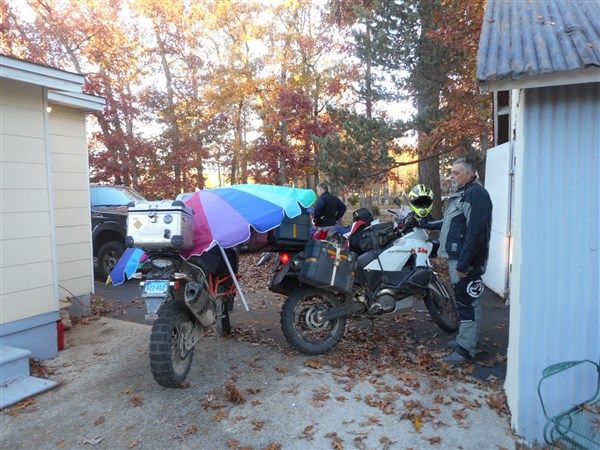 Lots of fun Jeep roads here with just a touch of sand to keep you focused.
But, if you want to ride a fully loaded 1,000CC ADV bike through deep sand and whoops, they got that too.
I don't know how many times this bike tried to break my leg with the bag mounts. After the first day and a nicely bruised and swollen leg they came off for days 2 and 3. You ride big bikes in this deep sand and they are going to fall over now and then.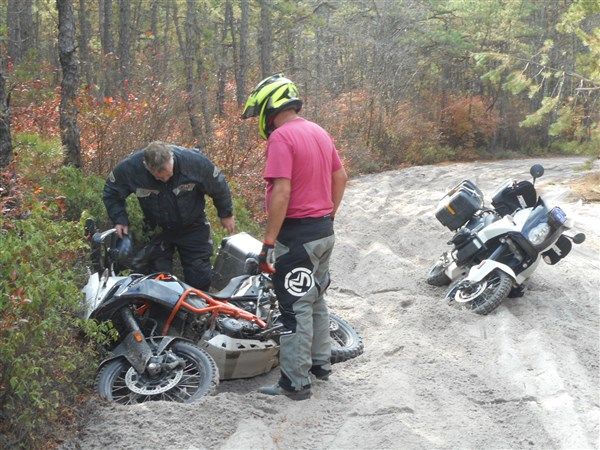 One of the highlights of these rides for us is always Lunch.
Day one at a local restaurant, Lucilles, great food.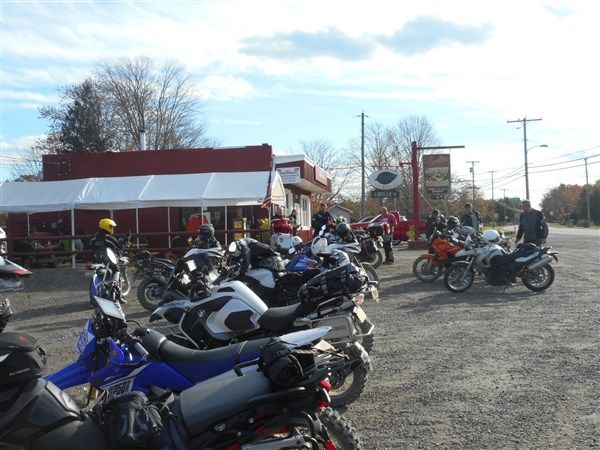 Days 2 and 3 were at a local Sportsman's Club and these guys had some top notch fare. Fresh baked sub rolls with Meatballs and Sausage. The Chile and Chicken Noodle Soup were tops too.
One of those spots where you wait for someone just praying they come around that corner so you don't have to ride back through that mess to fetch him.
Cranberry Bogs and Blueberry Fields abound here. And you thought New Jersey only had Oil Refineries and Mobsters.
Sand, Sand, and Just a Little More Sand.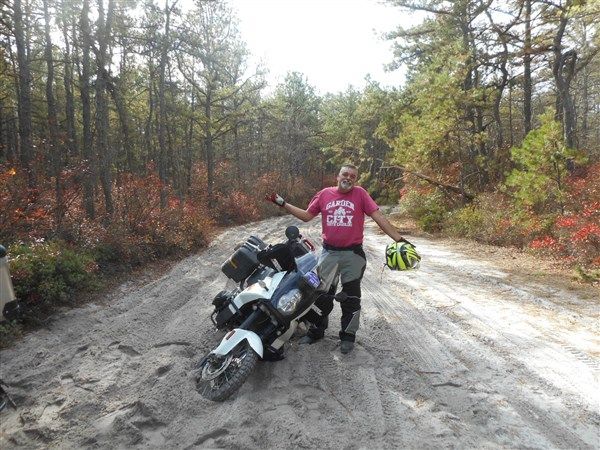 Adam's Cousin Reed stopped by the house to visit one night while traveling on his Suzuki. This kid has seen more of the World in his first year of motorcycling than most of us will ever see in a liftetime.
And of course we couldn't end a Ride Report without a pic of Adam sleeping on the ground somewhere. Though he wasn't exactly sleeping here when he crashed into an already fallen Tim. We have a rule on these trips that if the guy is not yelling for help you take a picture first, and then lend a hand.
One thing that struck me on this trip was the younger guys out there too. A few of these guys can really ride a 1200CC ADV Bike in the sand! Good to see it's not just us in the Metamucil Crowd that is enjoying this sport.
All in all it was another great trip with great friends. I think that is going to be about it for this year's trips and we are already looking forward to next Spring and Deals Gap. Time to head into the Shop and start on a Winter project, thanks for viewing our ride report.