Our yearly trip to Maine was taken last week and as usual we had a ball. It was 4 of us this year, with 3 riding up and 1 pickup hauling a DR650. Myself, Tim, and Paul rode up in a good amount of rain and figured what the hell we might as well stop at at Cracker Barrel for breakfast. It poured for about 20 minutes before we realized our jackets and helmets were on the bikes. This made for enjoying the next 200 miles of rain a complete thrill. Timmy and I were discussing whether water droplets down your butt and puddling before heading to your boots can cause hemroids?
Cracker Barrel Parking Lot'
Sunrise from The Milliken Camp,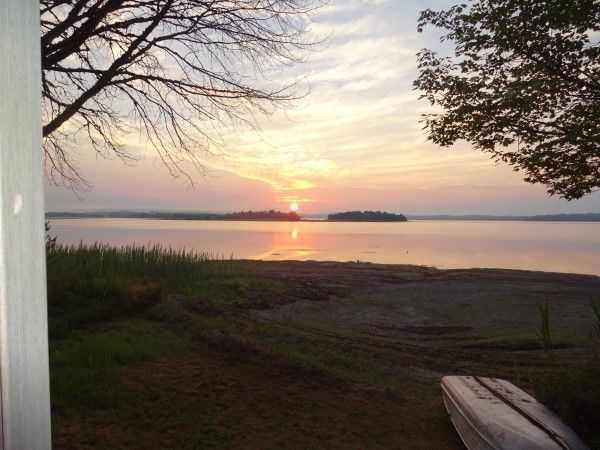 The Mall near Paul's Camp. It has just about everything we need.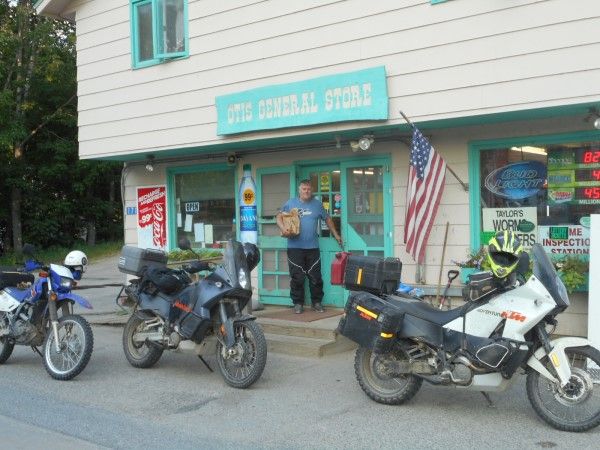 It ain't all dirt roads up here. Anyone who thinks ADV Riding is for old guys, (Though We Do Like It) can take a 1000CC motorcycle through some mud ruts.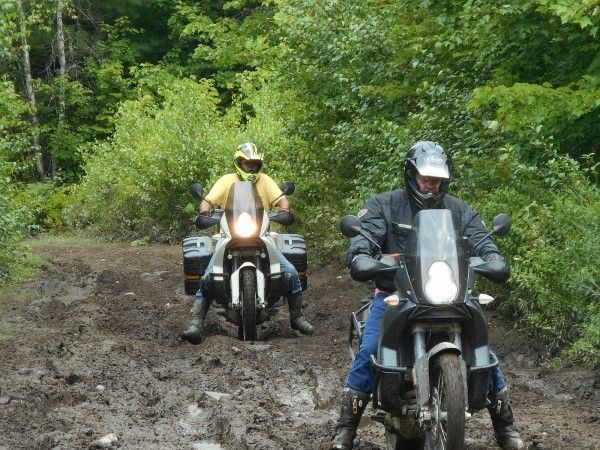 Paul took the lead on this one, I followed, and then the rest.
We got to the other side and found discovered our faux paux,
Quite a bit of our riding is off the grid. Sometimes these grassy old paths lead to something, and sometimes they don't. Turn arounds suck, and we try to keep them to a minimum. The problem up here is that most dirt stuff goes nowhere. Most everything leads to a camp on a lake or some dead logging ground, it is challenging to make a loop.
That is why you need a map and a GPS. We make quite a few map stops.
All roads do eventually lead back to camp and the fire. Just a tip here, if you have one of these plastic chairs at your fire, be careful. I don't know what the engineering is behind them but if you drink beer and watch a fire, they can flip backwards unexpectedly.
A pic from the Sunrise Trail. 85+ miles of abandoned RR Tracks in Down East Maine.
I got to take this pic of Adam at this incredible spot. Paul and I had just crested a small ridge where a huge Moose was sun bathing in the water in this picture. I gotta say, it spooked me, as I didn't know where he was going but he ended up jumping out of the water and crossing the trail by leaps and bound just feet from us. Cool? Nah, Farkin Cool!
Atlantic Brewing Company just outside of Bar Harbor. Great place for a couple of brews and what looked like some superb barbecue, if we hadn't just pigged out on lobster claws.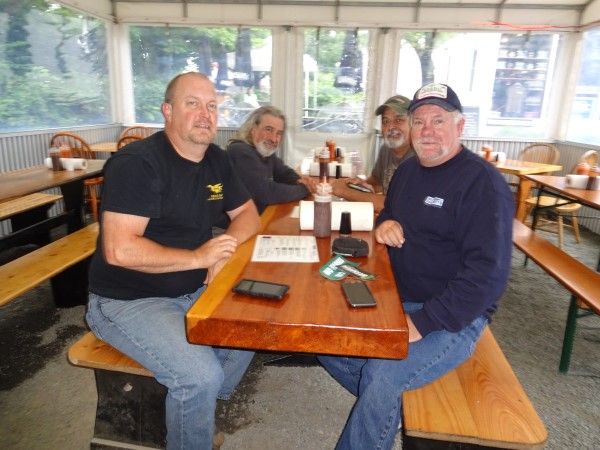 Just prior in Bar Harbor. Why do they make it so easy to eat Lobster, Oysters, and at the same time enjoy perfect Bloody Mary's?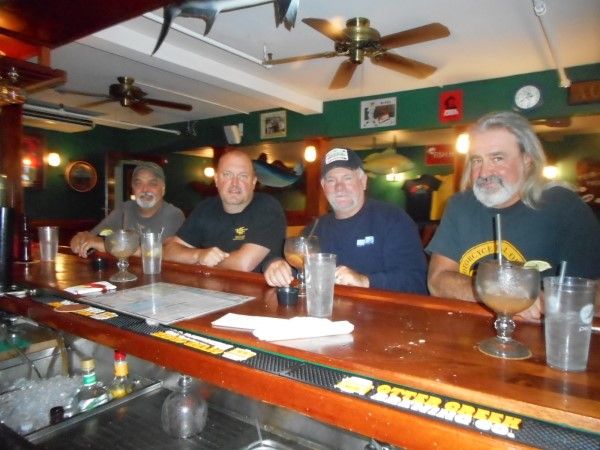 With the stops we made on this trip it all makes sense now. Pigs can fly, how else did this guy get up there?
Though some Pigs end up as Timmy's favorite meal, Red Hot Dogs. He eats 2 of these every time we stop for gas up here.
We met another celebrity on this Maine trip, ( We met Bone Crusher from American Loggers on anther Maine trip) . The guys tell me Curtis from North Woods Law graced our trip,he was a great guy and we met him in the middle of no where. Our GPS track kept leading us to damned up Beaver ponds and we needed a tip on how to get headed in the right direction. He wanted to send us the quickest way but that wouldn't work for us. He understood and sent us the, (Scenic Way). Thank You Curtis it worked out great!
So, those are the hi lights of this year's trip. August is a great time for ADV riding in Maine. The weather is warm. the Blueberries are in season, and you can get a Bud Chelada because the Mexicans are there picking the berries. Already looking forward to next year. If you haven't tried ADV Riding check it out. It always reminds me of why I started riding in the first place as a kid, to explore.